---

Equinomics 101 College Edition
You're horse savvy. But if you don't have an inside line on how to manage the financial side of your horse operation, you're not getting the most out of your horse business:
How should you handle barter and like-kind exchange?
What about travel expenses if you don't end up buying the horse you thought you wanted at that auction in the next state?
How should you compensate farm or ranch employees?
What's the real difference to the IRS between a "business loss" and a "hobby loss"?
Now you can reconcile your emotional and financial investment in horses with accounting that makes sense. Get the breaks you deserve, and still enjoy the business you love, with Equinomics 101.

Here's What the Equinomics 101
College Edition Offers:
Case studies and tutorials that are fun and easy to understand.
20-chapter study course covering everything from Barter and Like-Kind Exchange to Horses: Business versus Hobby.
How to do a six week rolling cash work sheet, a simple strategy Equinomics 101 author Richard B. Dicks uses to get companies out of cash flow problems.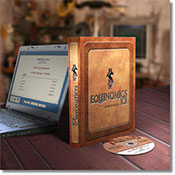 Equinomics 101 College Edition
Equinomics 101 is available in hard-copy or e-book format
You get the ground-level, practical "how-tos" of essential financial management and accounting for horse businesses, including:
Basic record keeping
Cash management
Preparation of horse business tax information for your CPA
Documenting transactions for potential tax audits
Visual, automated help guides
Customized chart of accounts
Case studies from the equine industry
And much more accounting horsepower
Equinomics 101 is an equine accounting package designed to make accounting/bookkeeping for the horse business easier with College-level instructional guides, exercises and tests.
Case-study and tutorial that are fun and easy to understand
Click Here to view the Equinomics 101
College Edition Table of Contents